Hi everyone,

The expectation we have of the sample libraries that we work with is that they have a lot of velocity layers, multiple round robins, controls over dynamic expression and more. 

Today's review is about a sound design and percussion library that was made from the recordings of a luthier classical guitar. Sul Tasto, is a library that isn't instantly rewarding : It requires a bit of patience to help our creativity reach new boundaries but it does so, in a very fun way.

[Buy Sul Tasto at Loot Audio : https://www.lootaudio.com/category/kontakt-instruments/visionary-robots-industries/cedar-sul-tasto-kontakt ]
Lighter, faster...

Contrary to a lot of libraries out there, Sul Tasto weighs the weight of a modeled instrument with a little over 70Mb and 108 samples on your hard drive. It runs with the full version of Kontakt 5.6.5 and features two mic placements, one that is close to the player and another one further away. 

The samples played 'dry' or 'as recorded' are a combination of percussive hits on the body of the guitar, faster and slower scraping sounds on the strings and other sound effects from the instrument. In context, and without doing much to the samples, you could easily accompany the performance of a guitar player as featured in Visionary Robots Industries' video : https://www.youtube.com/watch?v=QlUyGWLbqrQ

... Stronger?

Yet, all the fun really happens once you start using the separate channel strips for each coloured zone of samples. Each coloured zone corresponds to a set of samples that in turns corresponds to a channel strip and a series of effects. 

The black and white nodes don't give you any numerical value, that forces you to 'use your ears' but also, to experiment, do things that are over the top maybe... but at the same time trigger your creativity.

In terms of control you get :
A per channel fader with its solo and mute buttons as well as its reverb, delay, and two modulation fx sends.
On top of that, you also get an edit page per channel with :
Volume controls over the two mic positions
A pitch control to detune the samples
A sample start and speed function
An envelope feature with attack, sustain and decay
A distortion effect with three modes (tube, stomp and stack) as well as a tone control for the saturation
Three filters (hi-pass, low-pass and peak) with cutoff and resonance controls
A routing option for the filter and distortion
A convolution effect section with 8 convolution effects
And a general master section with : 
A four band parametric EQ
A compressor
A tape saturator
Routing options for the EQ, Compressor and Tape
Delay, reverb, and two modulation effects options

Should I get this library? 
 
It may be confusing not the have the usual velocity layers, round robins, presets that can be found in most sample libraries. A lot of developers emphasize the production-ready quality of their libraries, and while Sul Tasto isn't completely void of it, its real fun is in experimentation, taking the sounds apart to make them be other things than what they originally were. 

I'd be lying if I said that the library blew me away from the start. I didn't quite know what exactly to make out of the sounds at first. But when really taking the time with the onboard effects, I saved a first patch, then another, and another. And realized that I was really having fun with the library and wanted to make more of my own sounds out of these. 

The other quality of Sul Tasto, is that its sampled foundation is original. So if you're looking to make a drone out of a pencil hitting some guitar strings... well you can! The library works particularly well with cinematic and horror genres but works really well in a pop context too.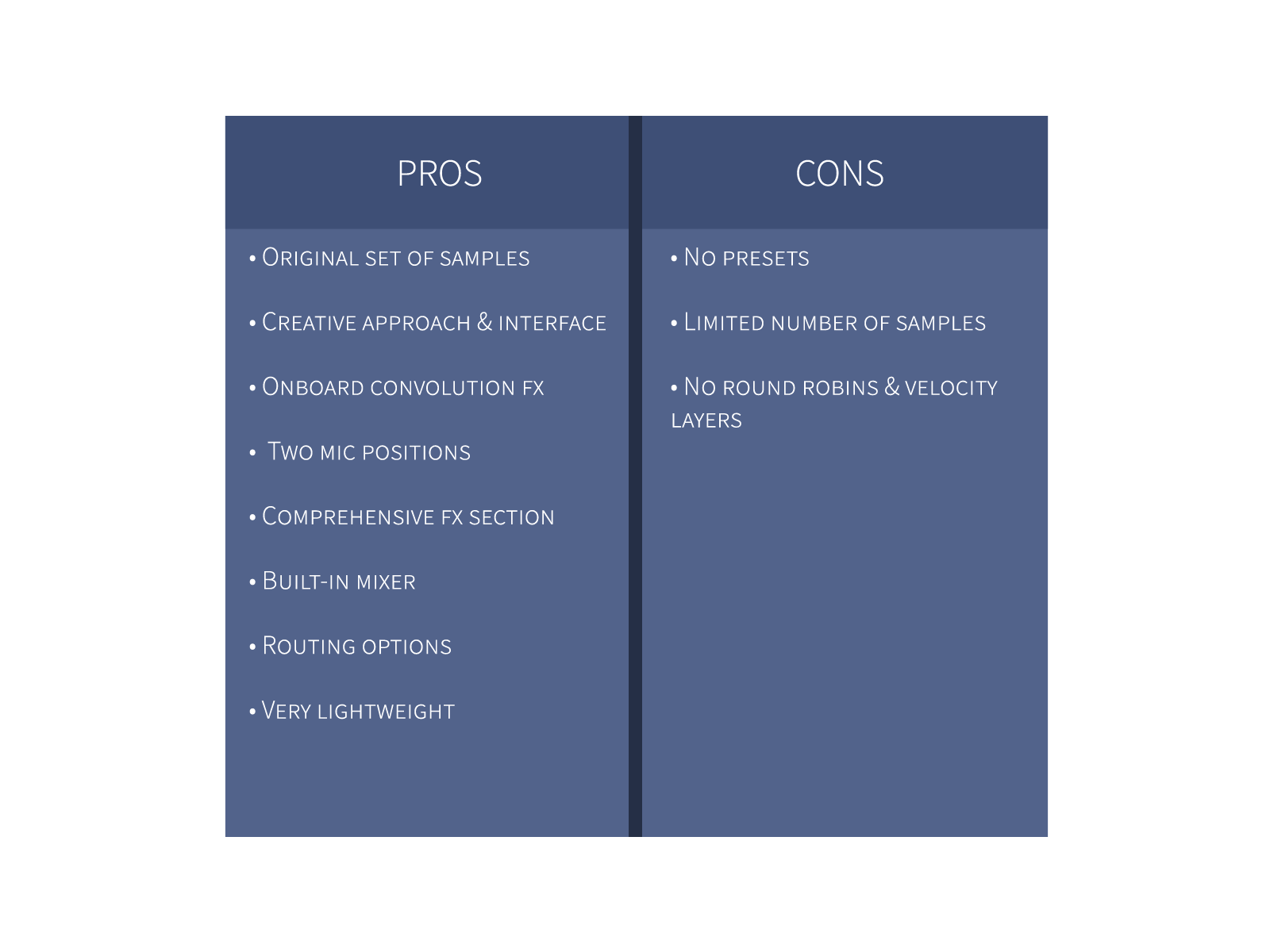 SPECIFICATIONS 
6 Sound Engines 
3 effects per Engine 
3 Insert master effects 
4 Send master effects (Delay and Reverb, Modulation 1 and 2) 10 custom made IRs for the Reverb 
108 single samples 
Total Dimension: 75,1 MB 
Sample format: 44.1KHz, 24 bit, NCW, stereo 
Requires Kontakt 5.6.5 or above (FULL VERSION - not for Kontakt Player) 
Version 1.0 (April 2020)