Hi everyone,

After the review of two other Ben Osterhouse libraries (Cello Textures and String Flow) on my YouTube channel, here's the review of Pattern Strings. This review of Pattern Strings is more of a sound demo accompanied by a nice walk in the streets. The rhythmic motifs of the library then punctuate my exploration of a park in the cold of February 2021 to end up in a beautiful reunion with my dog.

Buy Pattern Strings by Ben Osterhouse for 60% off at VST Buzz (Limited time, a few hours left) : https://vstbuzz.com/deals/60-off-pattern-strings-by-ben-osterhouse/?ref=81


Here's the main description of Pattern Strings : 
'Pattern Strings offers a unique approach to ostinatos by providing a collection of tempo-synced rhythmic fragments. These 19 rhythms have been recorded at two dynamic layers on violin, viola, cello, and bass, with 4 round robins. The interface utilizes an intuitive drag and drop mechanic which allows you to arrange the rhythms into sequences in which all the rhythms flow together with natural phrasing and musicality.'

In Context

In my video, I've used a wide range of different patterns. The sound of the patterns is coherent throughout, going from faster spiccato-like articulations to pillowy smooth half notes. In the demo, two of the patches I used (one is the drone that you can hear at 00:56 and the other one, the delayed bowing that you can hear in the stereo field at 02:00). 

Even though this is technically a phrase-based library, I was actually surprised by how easy it is to create melodic lines with it. Phrase libraries can sometimes include too many ornaments to actually be helpful in a variety of contexts. But this isn't the case here where Ben Osterhouse found the right compromise between realism and flexibility.
Features : 
 
The interface works with a specific pattern strips system that allows you to drag and drop rhythms and arrange them as you see fit (you can move them around or delete them easily). This is especially effective if you'd like to get some inspiration. I've found that randomly adding rhythms on the pattern strips gave some very quick inspiring results.
 
The interface also features a Legato function that syncs new notes with the previous held ones. 
An automatic bow direction plays downbows on downbeats and upbow samples on upbeats.
You can set the tempo speed to be half speed or double speed. The samples were recorded at 80bpm or 90bpm, if you slow down the tempo too much, that will result in artifacts. So it's better to keep it within a reasonable speed that doesn't stretch too far from the original tempo. 
 
A full string section
In the library, you actually get a bass, a cello, a viola and a violin recorded at 80 and 90bpm. You can beef up the sound of the ensemble by turning on the 'doubling' function. The stereo-double samples have been rendered down to prevent an increase in the number of voices or memory needed. 
Should I get Pattern Strings by Ben Osterhouse?

The great thing about Ben Osterhouse's Pattern Strings, is that while it is a performance-based library, it actually gives enough options to make great and interesting sounding compositions. The easy-to-use interface and the choice of patterns quickly trigger your imagination. The fact that the library is phrase-based automatically makes your compositions realistic (provided you don't slow down or speed up the tempo to crazy amounts). 

All in all, another beautiful library to have in your collection if you like intimate sounding strings that will allow you to release realistic sounding tracks in no time.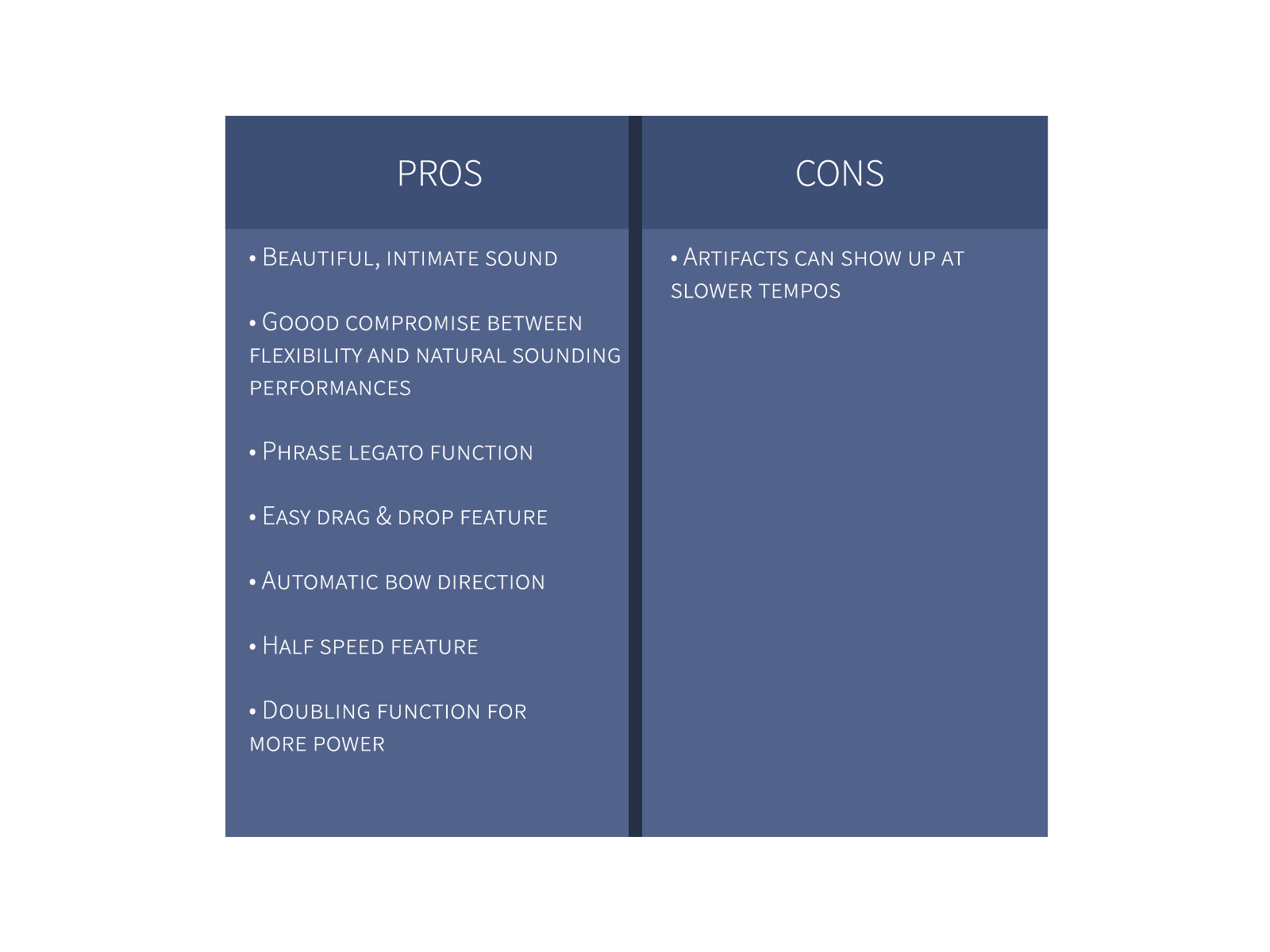 Kontakt Version Required: 

6.4.2 Full Version (Not for Kontakt Player) 
Product Version: 2.1
[If you decide to buy the library through one of the affiliate links provided in the article, you'll actually help me out provide more content for you in the future, thank you for your support!]