I like to think think of bass as being the foundation of a record. It brings the percussive and harmonic elements of a mix together, giving them weight, power and some may say, a reason to exist. The algorithmic and sampled synths covering bass sounds are limitless these days, some may be promoted as digital synths and others as the sound of analog hardware synths in the box. 

Epica Bass by Sam Spacey is, in my opinion, a very good example of what an analog synth can sound like. In the video, you'll see me go through a lot of the sounds that are divided in different folders in this 7GB sample library, from monophonic and polyphonic basses, to arps, multis and the raw waveforms to make your own sounds with. 
 
In the library you get 625 presets including :
Monophonic Basses : The monophonic basses is the first folder that you get in the library, and straight away, you can feel that some work and thought has been put into these sounds. The first basses have weight and presence in the top end when you dial in the resonance knob or make it interact with the cutoff filter. You can hear the power of the recorded filter implemented in the startpoint knob that, through the sample start function inside kontakt, allows you to use the real analog filters of the synths. The folder contains a dense and varied choice of basses from very soft electric bass-guitar-like synth basses to Daft Punk's 90s formant synth used (among others) in the track 'Da Funk'. 
Arps : Very often, when working on a cinematic track, you'll feel the need to reach for a great sounding arpeggiated bass sound that hovers in the background of a scene. This arpeggiator works well with the sounds included in the library, especially when combining its use with the modwheel to achieve elvoving textures and more aggressive or modulated sounds. 
Polyphonic : The polyphonic patches go way beyond bass territory, giving you inspiring keys to make melodies with, full-sounding pads, retro keys and some more textural sounds. So there's more than enough for you to make full productions with the included sounds in Epica Bass.
Waveforms : Having the raw waveforms to work with is a pretty useful thing, especially when using these with a custom fx chain. In the video, my choice was to go through a channel strip (Lindell 80 by Plugin Alliance) first, into a Multi FX (Unfiltered Audio Triad by Plugin Alliance) into an delay plugin  (Echoes by Nomad Factory) into an additional analog saturation plugin (Elysia Phil's Cascade by Plugin Alliance) and into another instance of Triad. I really like the results you can get when stacking plugins on top of each other on a sample library for greater, creative results. 
Multis : Multi-patches in Kontakt are often a great option if you need great sounding or inspiring results quickly. The multi-patches included in Epica Bass, though more CPU-hungry, give you full sounding arpeggiated sounds that would easily do the trick in a production. You also get pretty crazy bass sounds that you can shape into leads with the modwheel, textural basses, rich sounding pads and heavy-layered basses.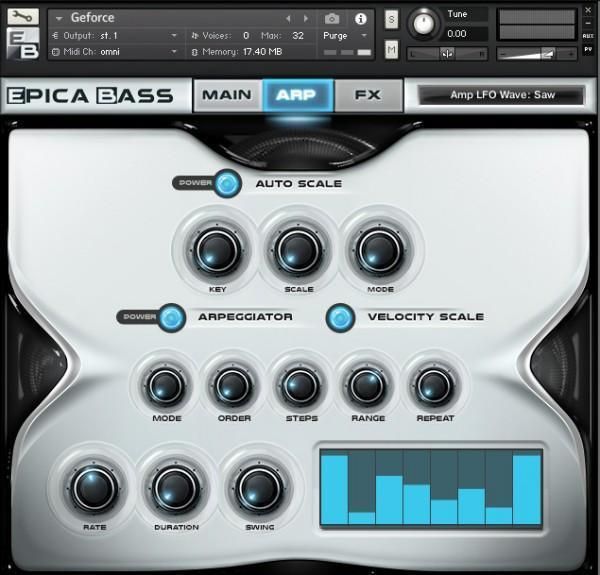 Should I get this library?
Out of all the synth libraries in Kontakt I've tried, this one is one of the closest to bring the analog feel and sound in the box. The really well thought-out sample start feature (startpoint) that allows you to use the filters of the hardware synths is a real gem in my opinion.
Not only that, but all the modulation options : The modulation randomizer as well as the LFOs that you can you use to modulate different parameters, the choice of filters and fx that are really well adapted to the sound of the synths, the drift knob that slightly detunes or completely warbles the sound, the velocity layers and round robins... all these features contribute to making this synth an 'analog synth in the box'.
I've found it to be a real joy to play with, and if you like that type of sound, I'm sure you will too. I highly recommend it!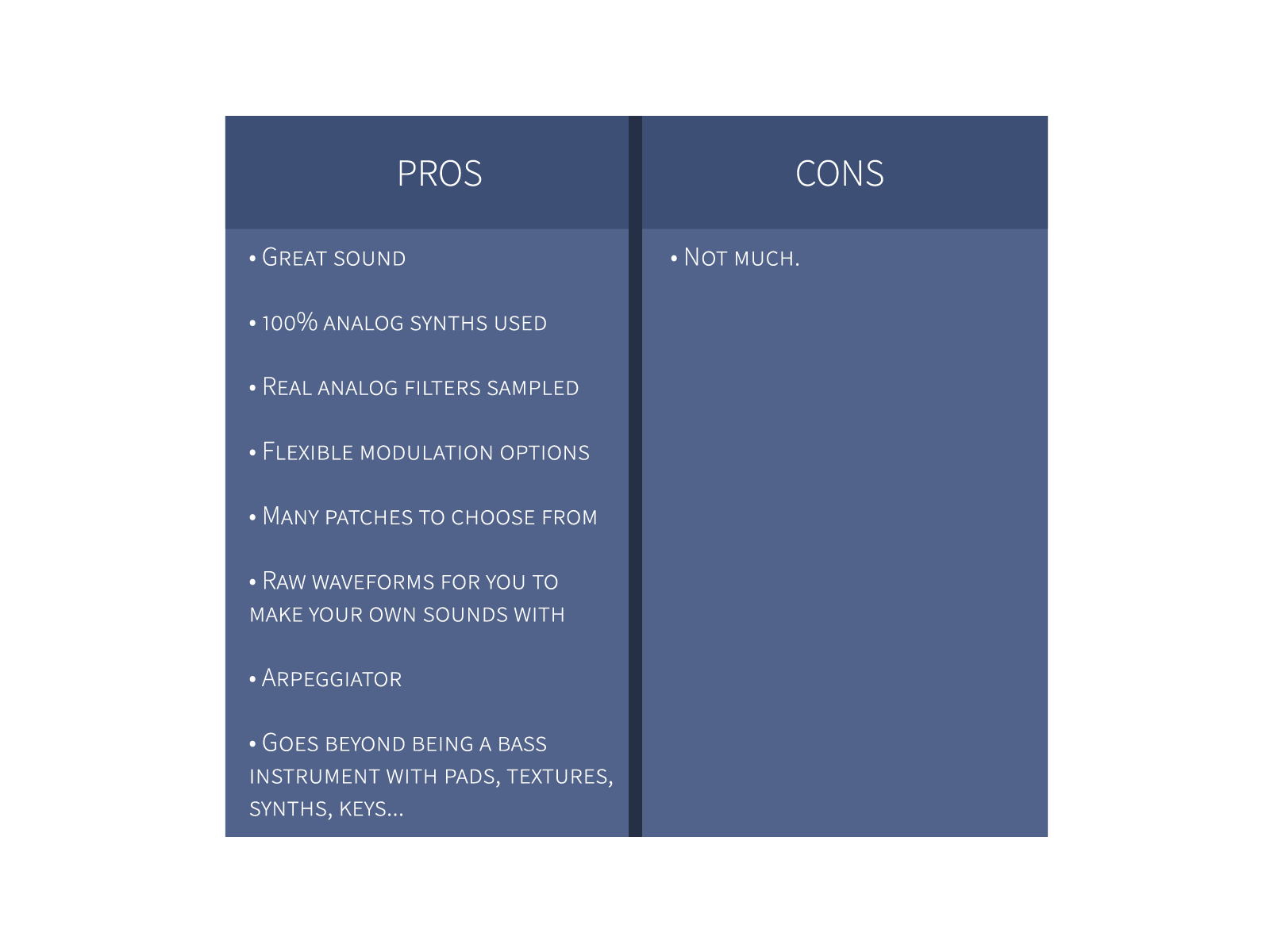 Analog synths sampled 

Arp Odyssey Mk3 (original), Sequential Pro 1, Oberheim SEM, Oakley Modular, Yamaha CS-30, Future Retro, Matrix 6r, Telemark Modular and Roland SH 1000. 
Analog hardware processing 

UBK Fatso, UBK Kush Audio Electra Eq's, DBX160XT, Neve Preamp, Eventide H8000, Eventide Eclipse and a collection of distortion pedals. 
Interface Synthesis Functions: 
- Amplitude Envelope A,D,H,S and R, Velocity to Sample Start, Velocity to Filter, Velocity to Amplitude 

- Pitch Envelope A, D and R with Env Amount, Random Note Pitch, Pitch Drift, Portmento, Sample Startpoint, Random Sample Startpoint. 

- Filter Envelope A,D,S and R, Filt Cutoff, Filt Resonance, Filter Type (6 Filters), Env Amount and Filter Keytracking 

- 3 x LFO's each with: 5 waveforms, LFO amount (+/-), Frequency, Fade in, Modwheel Cnt Amount (+/-) assigned to Amplitude, Filter and Pitch 

- FX Rack and also Extensive Arpeggiator page
System Requirements :
Full NKS Compatibility - Works with the FREE Kontakt Player!
Windows 7, Windows 8, or Windows 10 (latest Service Pack, 32/64-bit) 
Intel Core 2 Duo or AMD AthlonTM 64 X2 
4GB RAM 
~ 
Mac OS X 10.9, 10.10 or 10.11.1 (latest update) 
Intel Core 2 Duo 
4GB RAM
Download Size: (RAR files) 
Parts 1-4: 1GB each 
Part 5:         851MB
[Some of the links are affiliate links, if you purchase a product, you'll also help me out to provide more content for you in the future. Thank you! :) ]