Hi everyone! 

First of all, I hope that you're all doing fine, I wish you a happy new year and the very best for 2021! 
This year's first review is dedicated to Synth Essentials Vol 1 by Anarchy Audioworx. We'll also be talking about my making of an indie folk/pop track called 'Meeting at Sea Level' with Synth Essentials and how I navigated through the library's sounds in order to compose the track.
Synth Essentials Vol 1, as the name suggests, includes a variety of 'essential' synth sounds, aiming at making this a bread and butter package of wavetable, granular and analog based synth sounds that will help you get quick and great sounding results in your productions.
Listen to 'Meeting at Sea Level', an original song made with Synth Essentials Vol.1



In the library you get 300 presets including : 
 
Synths (150 Patches) : The synth patches are overall pretty powerful. They combine both simple waveforms and slightly more complex synth sounds. Overall, they offer some warm sounds that go from synthesized electric pianos, rich leads, soft sines and sharper triangle wave synths.
I found when composing my track, that the generous 150 synth patches allowed me to get some good results quickly. I found some playable soft synths that could replicate the sound of an electric piano and other more aggressive tones. If you're into Synthwave and other 80s synth music revival genres, Synth Essentials also has patches that do the trick. Some of the arpeggiated and other detuned synths would be great for composing in the context of music for games & apps. 
 
Pads (44 Patches): The pads are my favourite of the package. They're lush, evolving, sometimes complex... I've found them to quickly fit in the background of my track, the main pads I used in 'Meeting at Sea Level' were both used as alternatives for real strings and choirs. One of them is the emotional foundation of the track while the more vocal-like pad aims at adding air to the track. I've found that a lot of these pads could really be useful in the context of cinematic scoring. You'll find patches that have a great sci-fi / vintage movie quality to them, while others will allow you to score for more modern movies or horror genres. 
 
Basses (37 Patches) : If you need heavy hitting basses, from low sub-frequencies-rich basses to more gnarly, gritty basses, Synth Essentials got you covered. The moog-like bass I used in 'Meeting at Sea Level' worked well in the context of the track. I found though that the library was less packed in softer, more subtle basses. A lot of them have the peaky, punchy transients that you'd expect in Trap recordings featuring 808s. 
 
Stabs & Plucks (41 Patches) : The stabs & plucks were pretty fun to use. In 'Meeting at Sea Level' I went for plucks that complemented the drums of the track or could be used in the pre-choruses as a way of adding emphasis to riffs. While going through the patches though, I noticed that a lot of them had the potential of fulfilling the role you'd expect them to play in a lot of different electronic music genres. As you'll hear in the demos, they cover a lot of ground that will make you create inspiring and punchy melody lines for your electronic music productions
 
Background Textures (20 Patches) : Being a fan of synth textures that sit in the back of a track or add the necessary touch of life to a production, I was nicely surprised by the content that I found in the Background Textures folder. While there could be more patches (there could always be more of those as far as I'm concerned) the provided Background Textures allow you to go into cinematic territory without too much difficulty adding yet another asset to this already well featured library. Anything that's cold, grainy, noisy without being aggressive and reminding you of those great winter nights, or even, anything that is capable of making you mentally travel into a post-apocalyptic world, is bound to get my attention. With that in mind, these Background Textures didn't disappoint.
 
FX (20 Patches) : The sound FX section of the library is useful if you need some pink noise that create a transition effect between a section and another. There are some pretty useful sounds in this folder, while I haven't found it to be the most impressive one of the library.
3 formats of the library are available : 
300 Kontakt Instrument Presets, with slick user interface and built-in fx 
300 Ableton Live Instrument Racks, with streamlined macro controls and fully editable fx chains 
24 bit wav sample pack version, to use in any DAW or sampler 
When you buy the library you also get an additional 1GB of free samples including drums, drum loops, one shots, FX and bass hits. You also get the free TAL Chorus VST Plugin. 
Should I get this library? 
If you already have multiple algorithmic synths and presets made for specific purposes & genres, you must already be pretty well equiped to compose music in very diverse situations. However, if you're looking for a library that will quickly provide you with some great sounding synths, at an affordable price, and need to compose tracks on a deadline. Synth Essentials Vol 1 could be made for you!

 
Pros
Cons

300 Patches
Some high quality sounds for a wide range of applications 
Heavy basses, production ready instruments for Hip Hop, EDM, Trap, Pop, Rock & more
Nice choice of pads from classic to complex
The interface is easy to navigate
FX Section
1Go of free extra samples provided                                                                                     

No arpeggiator
Basses are on the heavy side, it's less easy to find basses that fit softer styles of music  
Could have more Background Textures & FX                                      
System Requirements 
 
2.83 GB of free hard drive space 
Kontakt 5.8.1 or above to run the Kontakt Version (Full Version, not free player) 
Or Ableton Live 10 Suite or above to run the Ableton Version 
The 24 bit wav version works with any DAW or sampler 
Compatible with both Mac and PC 
GUI Designed by Steve Riggs & Dead Human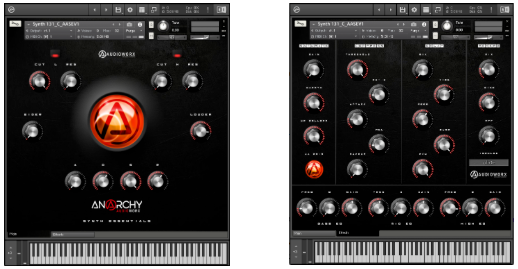 Links mentioned in the video
(Some of these links are affiliate links, if you decide to purchase the product, you'll also help me out to provide more content for you in the future. Thank you! :) )

Buy Synth Essentials Vol.1 : https://gumroad.com/a/351925363

New products by Anarchy Audioworx : https://www.indiegogo.com/projects/vocalator-pro-the-ultimate-vocal-production-suite--2#/

Meeting at Sea Level on the digital platforms : https://distrokid.com/hyperfollow/thomc/meeting-at-sea-level

Meeting at Sea Level on Bandcamp : https://thomcofficial.bandcamp.com/track/meeting-at-sea-level